Vintage leather? Does that mean old? The answer is no, speaking history wise fashion items produced before the 1920s are referred to be antique but ones made from the 1920s to 20 years before the present day are considered vintage.
In order to make this leather, specially made for jewellery, look vintage a completely different method is being used when producing it. First leather is made normally in its plain style colors. After leather is being processed again by special machines to give its old look and make it look worn out even though it is brand new. Some of you might say 'Why do it twice? Why would you make it look old?' Well, fashion changes all the time and these time-honored old school products are being considered modern and fashionable over and over again depending on fashion clichés of the season. This is why we, Sun Enterprises, try to follow the really latest tendencies and meet your fashion needs.
We have practised producing vintage leather for quite a while now which is why our vintage collection is considered to be the widest in Europe and massively various in sizes, colors, styles and basically available in most of types imaginable.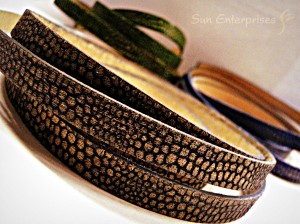 We are gladly proud of our numerous vintage bags, belts, round leather cords, flat leather and other sets. It is delightful to see customers visiting our store in Almere with a smile on their face when they have finally found the vintage colors in their preferred sizes, that none of the other shops they've visited had.
Recently 18 new colors of real flat italian leather in four sizes 10mm, 14mm, 20mm and 30mm have been added to our collection. Not to mention, we have tried to differentiate these colors with special made patterns such as tiger print, square print, snake (booty) print along with full vintage color leather. New collection consists of different shades of brown, black and red'ish' tones.
Similarly as the other types of leather, the new vintage collection can be smartly and trendy put together with our locks according to the size, combined with different beads, charms and other jewellery parts. Imagination is the only limit! Being creative is essential element of jewellery making and this is why we wish you to get inspired by this post and to let it go wild by trying out our new designs.