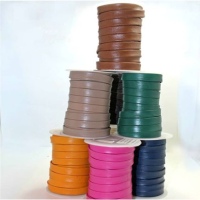 Faux Leather Cords with Names - 5mm
The leather with names in 5mm can be easily used with our stainless steel locks, findings in steel and silver plated locks to create bracelets in different styles. Another way of using this item is in combination with other styles of leather (braided, leather cords, etc), suede cords, silk & hair-on.
The high quality leather with names are easy to handle in production and jewelry making.