How to personalize your well - done leather bracelets, necklaces, leather bags, belts, straps and other accessories? This has been questioned and discussed among the jewelry makers and jewellery lovers lately so some suggestions have been made to support the idea.
Engraving Your Brand Identity?
- Aha! YES, WHY NOT?
Branding is personalizing your business, making your images seen and your voice heard by the public and dynamic market. Thus this is crucial for both individuals and business groups. Engraving the brand names on oneself' product has become most requested than ever. Especially in jewelry and fashion world, when you make yourself more originally recognizable. With expert's know-how and knowledge, engraving machine and leather stamping tools, any bracelet maker can be truthfully suggested engravable bracelet styles. Personalized jewelry: personalized bracelets/ necklaces/ earrings and other accessories with engraving method is highly considered. While you wish to make your brand be more appreciated, it is totally possible to make it happen, because engraving your brand portfolio (logo design, slogan, textual messages, etc.) on different leather or metal textures nicely works in this case! Engraving machine, stamping tools with experienced skillful hands allow us to engrave your brand's messages on various articles: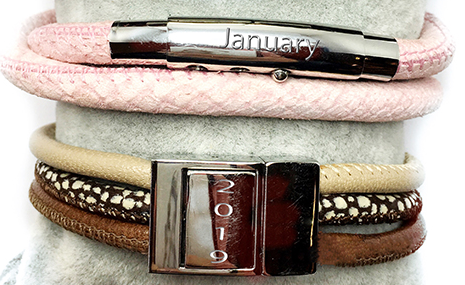 The engraving works perfectly on silver/ stainless steel locks, clasps and pendants in different colors and styles! (NOTE: magnetic locks and clasps are highly recommended)
♥ On Leather brand tags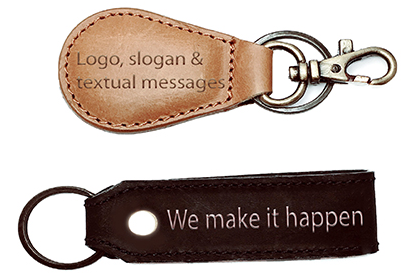 The engraving would look lovely and classy on our nappa/ Italian leather brand tags.
♥ On leather cords
Any idea of meaningful messages need to be conveyed or of your brand story need to be told? Our engraving machine can work nicely with our leather cords and other leather products.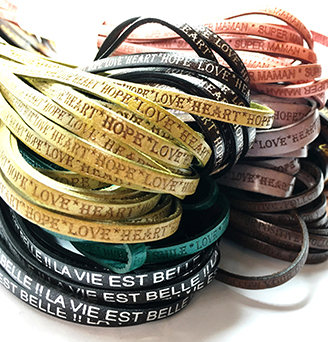 ♥ On other personalized leather jewelry, fashion and accessories
This engraving would be definitely highly recommended for personalized leather bags, caps, gloves, jackets, bells, straps, bracelets, pouches , dog leashes, dog collars and various lifestyle accessories.