Within the last couple of weeks, we made ourselves personalized bracelets out our own product range: leather cords, beads and locks. We got so much inspired by this jewelry making process that we wish to share it with other jewelry lovers and bloggers.
♦ Why should we take this DIY project into consideration?
Personalizing your leather jewelry: FAST – FUN and INSPIRING! What you need to have are simple tips and a pool of brilliant ideas. Yet, it's fast to learn how it works on available tutorial videos and articles on the internet. It is not hard to find the materials to start with. Thanks to the e-market nowadays! I can totally find a full set of components and order them online. You will get the parcel within 3- 4 days, depending on the distance. It is promised to be super fun and inspiring as you can create your own jewelry and make it a gift to yourself and other people.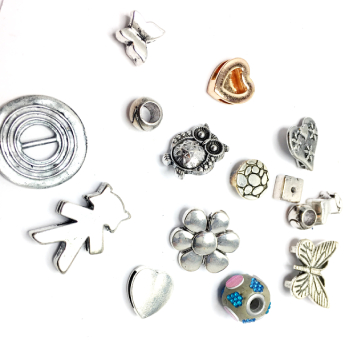 ♦ Where to get the idea from?
Basically, everything inside and surround you. That's how DIY stands for. All art is but imitation of nature, said Lucius Annaeus Seneca. Ideas for jewelry makers can also be from any highlighting natural features and human's lifestyle.
♦ How long does this take to make a personalized bracelet?
For a single simple bracelet with leather cord, a magnetic lock and a bead, it takes no longer than 10 - 15 mins. It would take longer to make more complex ones for more special designs with nods, cut and braiding or combining with natural pearls and gemstones. Hence there is no limit in creativity.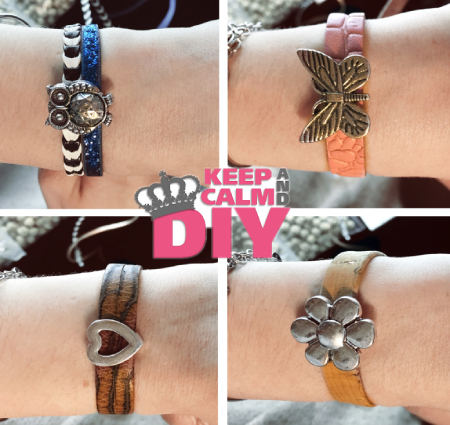 ♦ What can be in check – list?
√ Leather cords (considering size/ style and colors)
√ Locks/clasps (considering correct size, textures and colors)
√ Beads/stones/pearls (if necessary)
√ An underlay
√ A roll ruler
√ Sharp scissors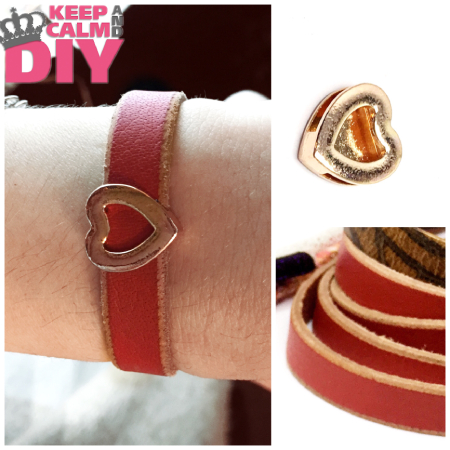 ♦ Cord is the soul of the bracelet making project?
Cord is the central focus of bracelets making process. It is decided by the target users, the makers' designs and purposes.
Genuine leather cords, considering the designs (round/ flat, bolo braided), suede, prints, hair-on leather, hairy leather cords, nappa leather or Italian leather, are popularly used in women's; men's and unisex programs. Leather bracelet custom is luxury but it is an affordable item to make and purchase. Cotton cords can be alternatives of real leather cords.
Silk cords in various colors can be mixed, creatively tailored and perfectly combined with gemstones, beads and pearls. It has been highly purchased in Italian and Spanish markets among the EU. The article is soft and flexible that it is mostly for women's program.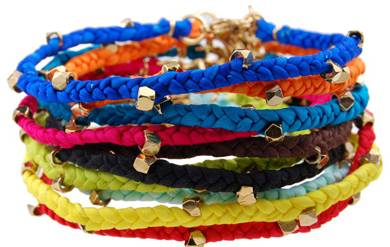 ♦ Any tips of cutting cords, using glue and lock?
√ YES
Based on our experience, we do need sharp scissors to make the cutting neat and clean. The length of (a) piece(s) cut out of an entire roll of leather cord depends on who is going to wear it. For women's bracelet, we normally make a cut of 16-20 cmts and 19 – 24 cmts for men's bracelet. The underlay for this DIY activity is recommended to avoid any damage created by glue. You need to choose an appropriate lock for the selected cord, regarding the shape of the lock if it is flat/round. Most excitingly, it is super possible to use flat locks/clasps for the round leather cords by arranging the round cords in certain ways but the other way around. While sticking the two ends of the leather cord's cut piece, you need to make sure that you do not use too much glue in order to prevent the glue from getting out and negatively affecting the surrounding part of the cord and the lock.
Good luck and wish you a wonderful DIY - leather project !!!